Budget Friendly Family Fun Outing
My husband and I have become pros at planning last-minute budget friendly family fun outings.  We are not the best at planning ahead but we still manage to find something to do and have a great time doing it!  Earlier this spring, my youngest son and I were out-of-town and were looking for something fun to do before heading back home.  I gave a couple of options and one was to visit a nearby nature center.  To my surprise he chose the nature center!!  I'm all for spending time outdoors.  Not to mention its cheap family fun that helps support the rehabilitation and care of all the Ohio species at the center!  So off to Brukner Nature Center we went!!!
Inside Brukner Nature Center
On this particular day it was still a bit chilly but the sun was shining and the birds were singing!! Manny and I were ready to have some fun!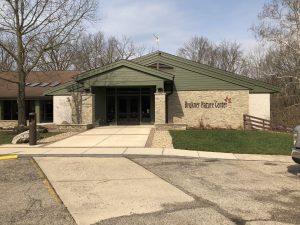 After paying our $2.50 admission at the front desk I turn around and immediately notice this adorable little guy!! I love anything owl related!!!  Nothing beats the real thing though.  This particular one is a Northern Saw- Whet Owl which can only be found in Ohio during the winter months.  These very small nocturnal owls weigh only 3oz. fully grown and if you are ever hoping to spot one, good luck!!!  They like to nest in very dense brush during the day.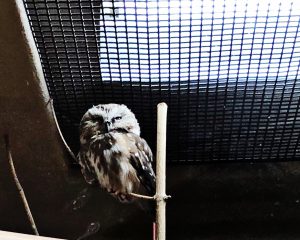 Manny was fascinated by this giant Praying Mantis at the entrance of the Heidelberg Auditorium & Meeting room. These seemingly peaceful insects actually are  ferocious hunters.  They eat mostly grasshoppers, flies, crickets and other insect but some adult females have been known to eat their own mates! Sorry guys.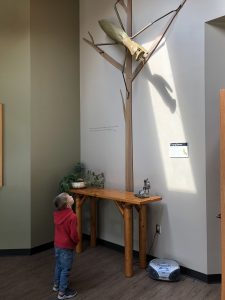 Inside the Heidelberg Auditorium & Meeting Room we "briefly" viewed the current art exhibit. Manny had zero interest seeing this so this was all the further I was able to go in.  Next visit I will be sure to go all the way in!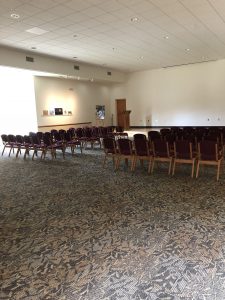 On our way to the indoor wildlife exhibit we ran into this lovely yellow garden spider (Agriope aurantia).  In person these are quite big but harmless. They like to hang out in gardens hence the name.  Last summer I came across one in my flower bed.  They are quite beautiful….at a distance of course.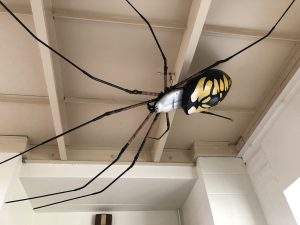 Here is the pic I took of the Yellow Garden Spider I spotted from last summer. ; )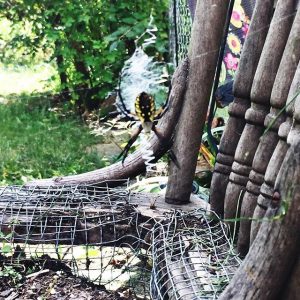 The indoor exhibit allows an up close and personal look at some really cool critters.  Manny's favorites were the corn snake and the box turtles.  I of course loved the beautiful barn owl.  I really wish I could have seen his little face. He just kept giving me the cold shoulder. If I were to guess, his grumpiness may have been due to the fact that I was interrupting his bedtime with my picture-taking. 
Next stop, family fun @ Bird Vista!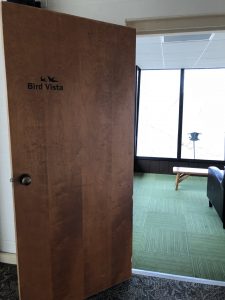 This bird viewing room was the coolest!  Manny and I spent a lot of time in here.  He immediately made himself at home and had me read him a book or two.  Then, with the help of some bird books as our guide, we tried to name some of the different birds we were seeing.  Right off-hand I recognized a male and female Cardinal, several American Goldfinches, and one very noisy Red- Headed Wood Pecker.  I probably could have stayed there all day on that comfy couch just bird watching but Manny was ready to head outside to see the rest of the wildlife.  
Manny in the Bird Vista, enjoying his bird magazine.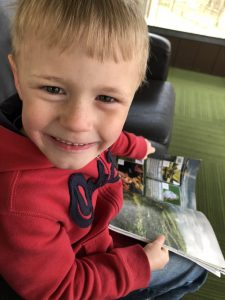 Before heading out…..
Manny informs me shortly after watching the birds that he needed to use the little boy's room. We then headed back upstairs to the restrooms and walked straight into another large sitting area.  As soon as we hit the top step Manny took off in to a dead sprint!   Normally I would have attempted to stop him (he's pretty fast) BUT he looked way too cute doing his half running half skipping routine down the hallway.  Plus, there was no one else around. Perks of going early in the morning on a week day, I guess.  It was nice to let him go a little wild and not worry about getting any "I can't believe you're letting him do that" kind of glares…lol!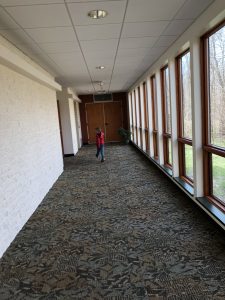 After our bathroom visit, we headed towards the back exit located near the Bird Vista. On our way we came upon yet another sitting area.  This one had a cute little reading nook on one opposite end.  On closer inspection I realized it was actually a nursing area complete with a cover and all!  Manny couldn't appreciate this but I could along with any nursing moms out there!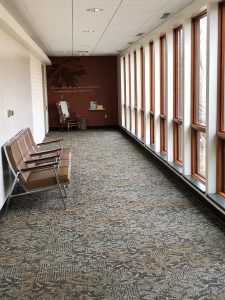 Here is a closer look.  Isn't it cute?  I love this wall quote too!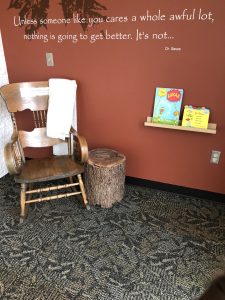 More Family Fun In The Outdoor Wildlife Exhibit!
Manny could not contain his excitement as we approached the outdoor exhibit.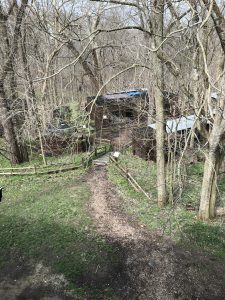 I only took a few select pictures in respect to anyone who has not yet visited this particular nature center and would like too.  I would hate to ruin the surprise!  It was pretty cool to see a fox and coyote up close and those owls are just beautiful! 
It's off to the trails for some quality fun!
Off on another sprint!  He slept well that night.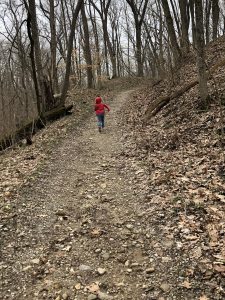 Several streams like this along the way.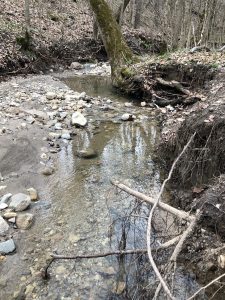 We had to cross a couple of bridges along the way. Manny of course thought it would be funny to give his mom a slight scare by pretending to jump in as I took his pic. 
I was happy so see some signs of Spring coming through! There was so much beauty on these trails it was hard to choose what all to capture!
  I could have spent another hour or two walking the trails but the little man was getting cold and was due for his nap.  We headed back to the Nature Center but not before taking a quick selfie of course.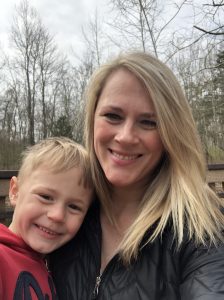 Before heading home I had one last surprise for my little guy.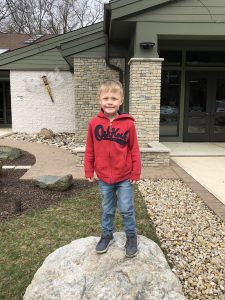 Last stop! Gift shop!
I let Manny pick out some small inexpensive souvenirs from the gift shop.  Knowing that all proceeds go back into the care and rehabilitation of the wildlife I didn't mind spending a little more.
He had so much fun in the Bird Vista room that he chose a bird whistle and binoculars.  I think I spent $14 total.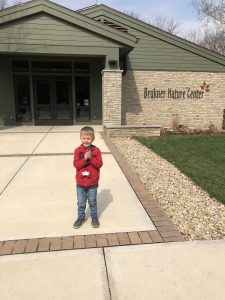 Mom had to get herself a little something too!  This turtle necklace made of genuine stone was too cute to pass up! : )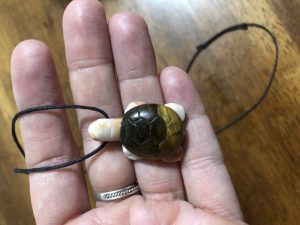 Manny cannot wait to go back. We both learned so much during out visit.  He loves to use his binoculars and bird whistle every chance he gets.  I get such a kick out of watching him look up at the sky waiting to hear a bird call back.   He's even asked for a bird book like the one he used at Brukner Nature Center.  Our visit was well worth the $20 I spent.  Especially since it helped support the care and support of the native wildlife at the center.  We can't wait to go back for their Haunted Trail.  Manny's birthday is on Halloween! 
*Note:  All native wildlife you have seen pictured here at the center are there due to having sustained some type of permanent injury making it unsafe for them to be released back into the wild. When a native species is taken to the Wildlife Rehabilitation Center, their main goal is to care for them and release them back into their habitat as quickly as possible.  Unfortunately, some injured species need long-term care and are kept for that reason.  Lucky for them they are given a second chance and safe place to live out the rest of their lives. If you are looking for something fun and educational to do that is budget friendly try visiting your local nature center!  Help support these non- profit organizations!    
Please follow and like us: