All Natural Fast Acting Bee Sting Relief
This post may contain affiliate links. Please read our Disclosure Policy for details.
Earlier this month I celebrated my big 4- 0 and boy did I welcome it in with a bang!! The day of my birthday turned out to be cold and rainy which kept us inside all day. But, it was nice to just hang out with the kids (no fighting!) and relax for a change and eat my favorite cake, German chocolate with coconut cream icing made by my daughter.  Then my hubby gave me some beautiful fall plants and 3 nice planters for the front yard.  I could not wait for rain to stop so I could get them in the ground.  Of course,that's where the fun part begins!  Not really.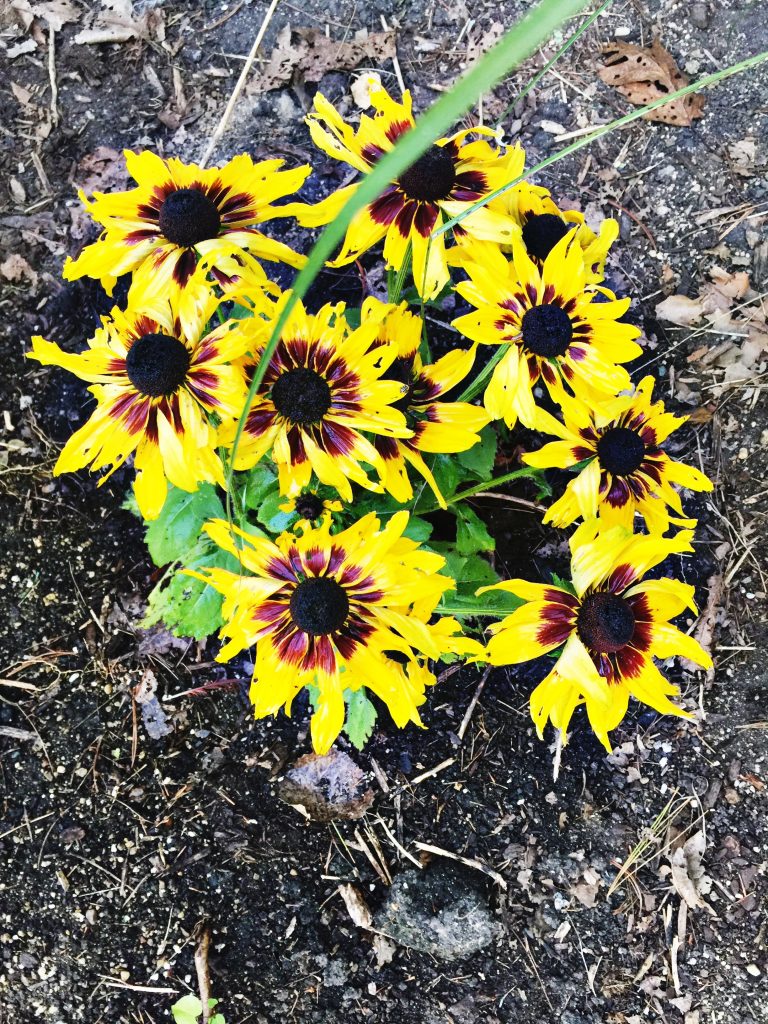 Here is one of my new fall plants.  Love these Rudbeckias!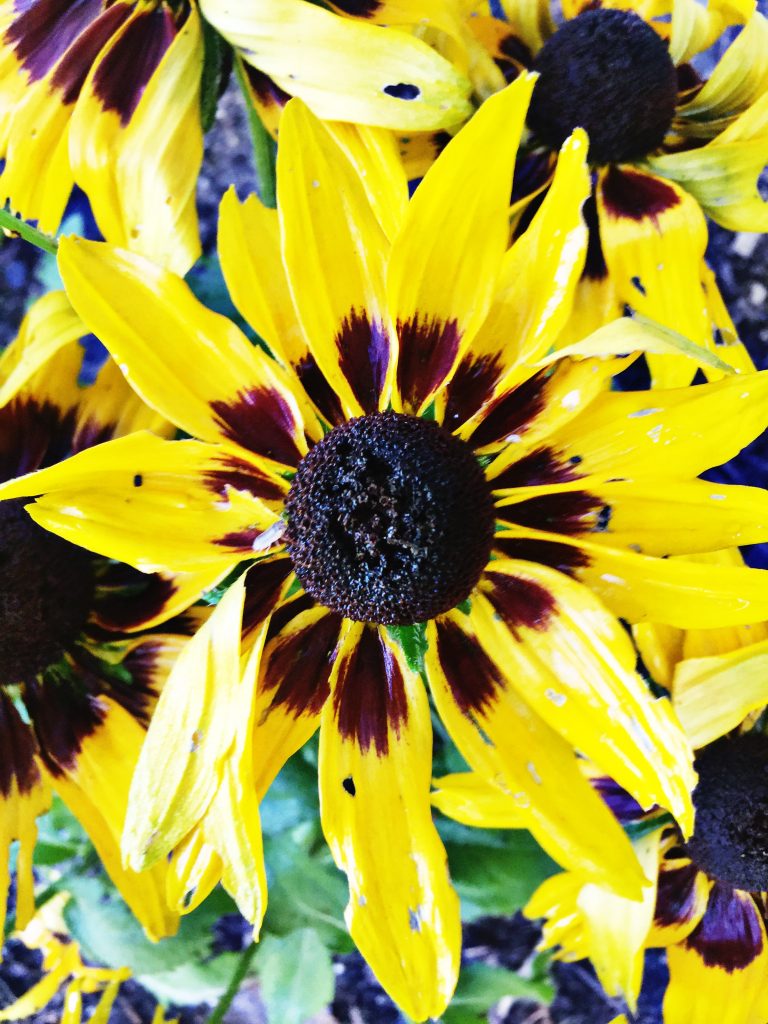 Closer look. They remind me of miniature sunflowers!
Them darn bees!
The next morning turned out to be beautiful so I decided it would be a great time to get my new bday plants into the ground.  It didn't take long to get them all in. As I stood there admiring their beauty my OCD kicked in and I started trimming and pulling weeds.
It wasn't too much longer after that that I must have stepped on the nest of bees and my therapeutic morning of working in the garden took a turn for the worst.
I looked down and my left ankle was covered in bees!!!  I felt instant pain and before I had time to really react they were stinging me all over!  I tried to run but all that was doing was taking them along with me.
So the next logical thing I could think to do was run into the house. Not one of my better ideals but thankfully the only one home at the time was my daughter and she was in her room with the door shut. Once inside, I could still feel myself being stung so with clothes on I jumped straight into the shower.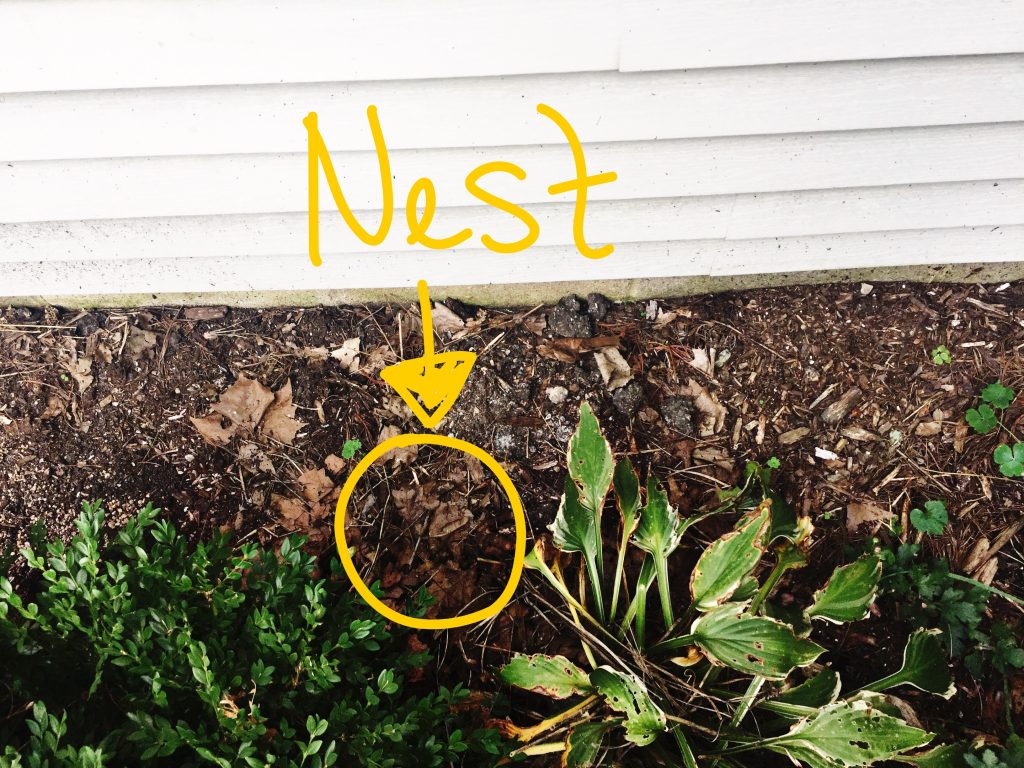 This is a pic of the leaves where the nest was hidden.
The pain was so unbearable that I honestly thought that I was going to see hundreds of bee stings all over my body.  Thankfully, I only found a few punctures on my ankle, one on my stomach, and a couple on the upper left part of my back.  My daughter by then had come in to check on me and immediately went to work on finding me something for the pain.
Luckily, not too long ago, I had bought this book called, Essential Oils for Healing: Over 400 All- Natural Recipes For Everyday Ailments by Vannoy Gentles Fite,  and my daughter was able to find a recipe for bee stings inside.  As soon as we applied the oils to I felt immediate relief.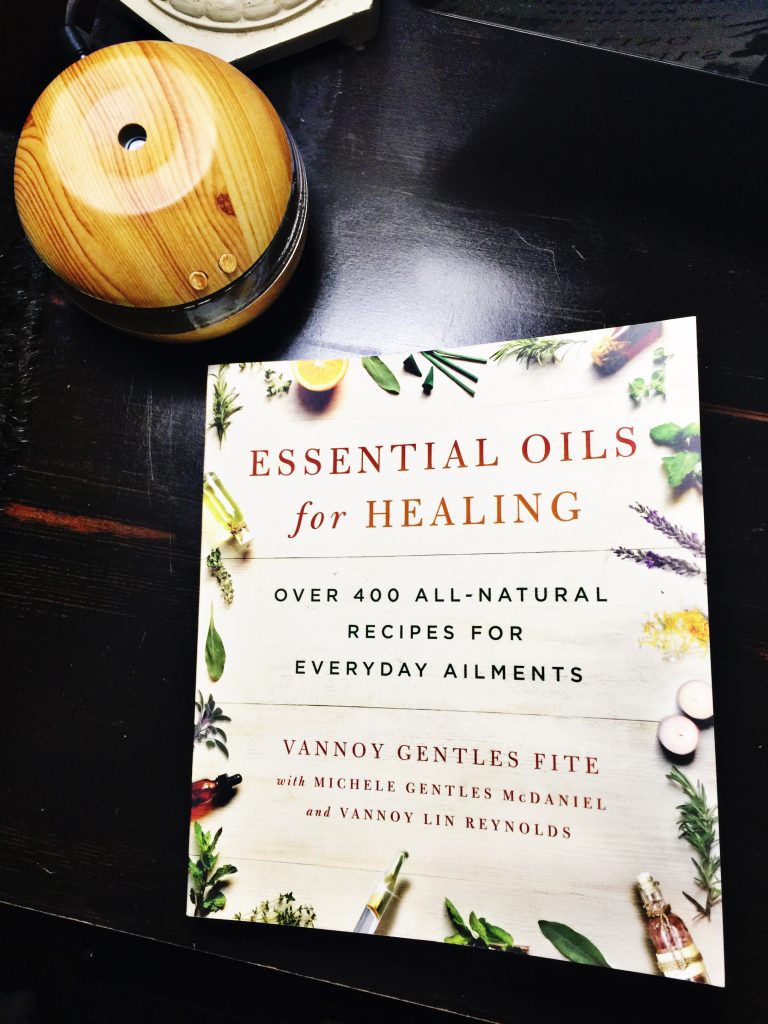 New to essential oils?  This book has it all!
My ankle on the other hand was another story.  The pain was worsening by the second and it began to swell.  I think it hurt worse here then anywhere else because of the number of times I had been stung plus the skin in this area is very thin.  The oils did take a lot of the sting away but it continued to throb throughout the day into the next.  Before I went to bed my husband applied a thick paste of vinegar and baking soda.  It stung pretty bad at first but I knew it was pulling out the toxins so I left it on until it dried.  I then reapplied once more before heading off to.  It too also helped with the pain.
The next morning it was still pretty sore and swollen.  The more I walked on it the worse it felt too.  So halfway through the day I couldn't take the pain anymore and decided to soak it in some Epsom salt to see if it would help pull more of the toxins out.  That did the trick!  The swelling went down and the pain was finally starting to ease up. I kept applying the oils from the day before and by the end of day two my ankle was pain free and actually began to itch which was a good sign.  It was starting to heal and that's what the other areas had previously done as well.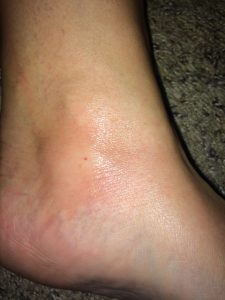 My swollen ankle right after being stung. This is the inside of my foot.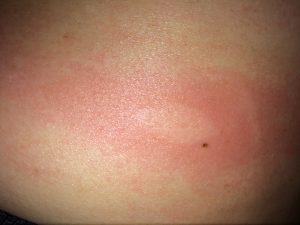 Upper back. OUCH!!!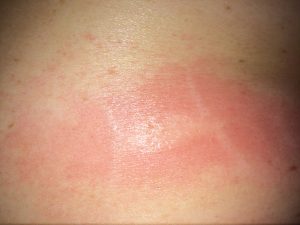 And here (also on back) DOUBLE OUCH!!! 
Who knew those buggers could hurt so darn bad!!?? So here are the essential oils I used for instant relief.  I did not have any helichrysum oil at the time but the lavender and tea tree oils mixed with olive oil seemed to work just fine without it.  Definitely add some if you have it though.
Essential Oils: 
If you are new to essential oils and/ or wanting a good quality oil I would suggest the ones that my daughter used on me which you can find listed below.  They are 100% Pure Essential oil, Non- GMO, and steamed distilled (Low heat is used to extract the oils vs high heat which kills a lot of the healing properties in the oils). Just click on the name directly under the picture and it will take you to the website.
Earth Shield Helichrysum Essential Oil is 100% Pure and Therapeutic Grade – 10ml.

Disclaimer: These statements have not been evaluated by the Food and Drug Administration. This product is not intended to diagnose, treat, cure, or prevent any disease. The information on this site is not intended or implied to be a substitute for professional medical advice, diagnosis or treatment. Please confirm any information obtained from or through this web site with other sources, and review all information regarding any medical condition or treatment with your physician. Never disregard professional medical advice or delay seeking medical treatment because of something you have read on this website.
Please follow and like us: