Easy DIY Wine Bottle Torches
I have to say that I am super excited to be sharing this tutorial.  Not only is this a super cool idea (thank you Pinterest) BUT……this is my very first blog post ever!!!  For those who know me well I'm sure that it doesn't come as a surprise to you I chose this to blog about.  Ya'll know how I LOVE to get my craft on!!!  Even more exciting, I am making these for  my son's 18th Birthday party coming up (insert crying face here).  I think these are going to look great out on the patio PLUS they will help keep those pesky mosquitoes away so our guests don't get eaten alive!
Materials Needed:
Clean Wine Bottle
Candle Refill Wicks or Cotton Rope
Funnel
Tiki Torch Fuel WITH Citronella
Brass coupling 1/2″- 3/8″  OR  Male Hose Mender 5/8″- 3/4″ (like I used for this project since my hubby couldn't find the brass coupling)
Small stones, marbles, aquarium gravel, OR glass crafting pebbles
Twine or extra rope (optional)
Elmer's Glue (also optional)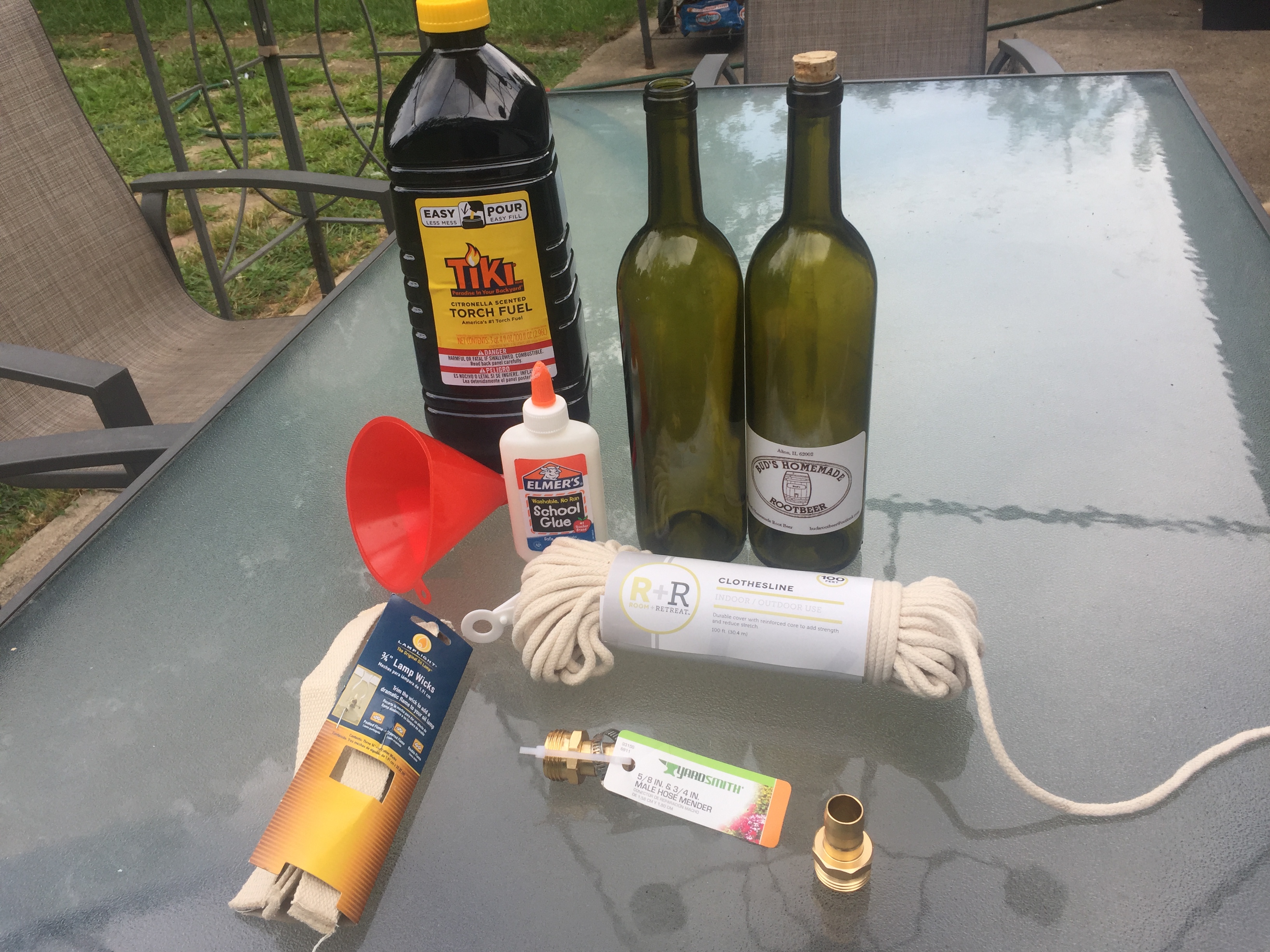 Here is a closer look at the Male Hose Mender.  I found this and the Tiki fluid at Lowes.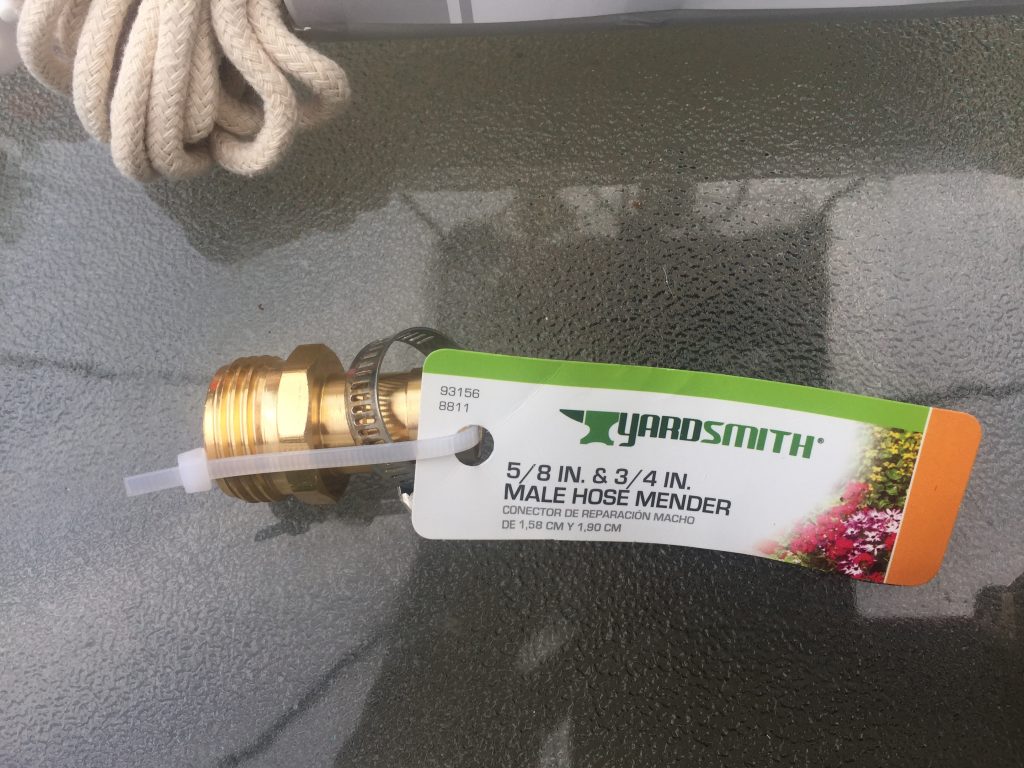 And here's what you do:
If you want to decorate the outside of the bottle I would suggest doing this first.  For this project I used a clothesline and glued it around the bottle working my way up from the bottom.  I stopped about halfway up.  I also added a little seashell using a hot glue gun to go along with my beachy theme.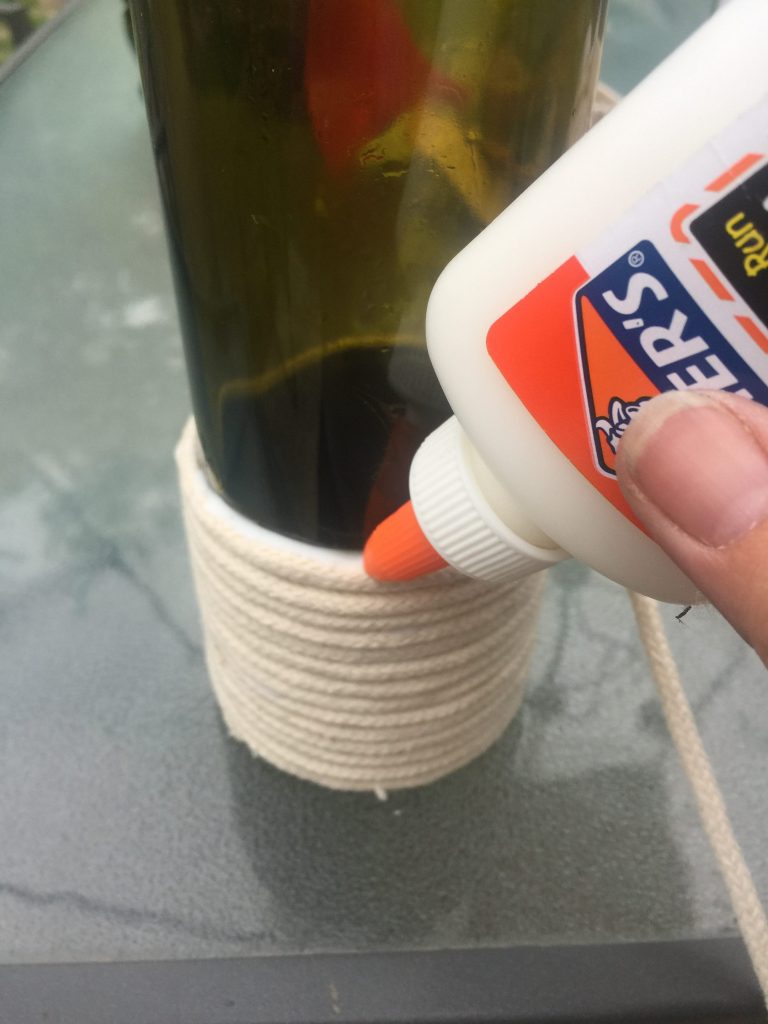 After you are done decorating the outside of the bottle you will then want to fill the wine bottle about 1/3 full with pebbles.  This is to help weigh the bottle down to prevent the bottle from tipping over while lit.  The rocks seen below are ones that I actually dug up.  Yes, it would have been easier to use aquarium gravel, glass pebbles or even marbles but I didn't have any of those at the time and since I was covering the bottom of the bottle with rope anyways I knew look wise it wouldn't matter.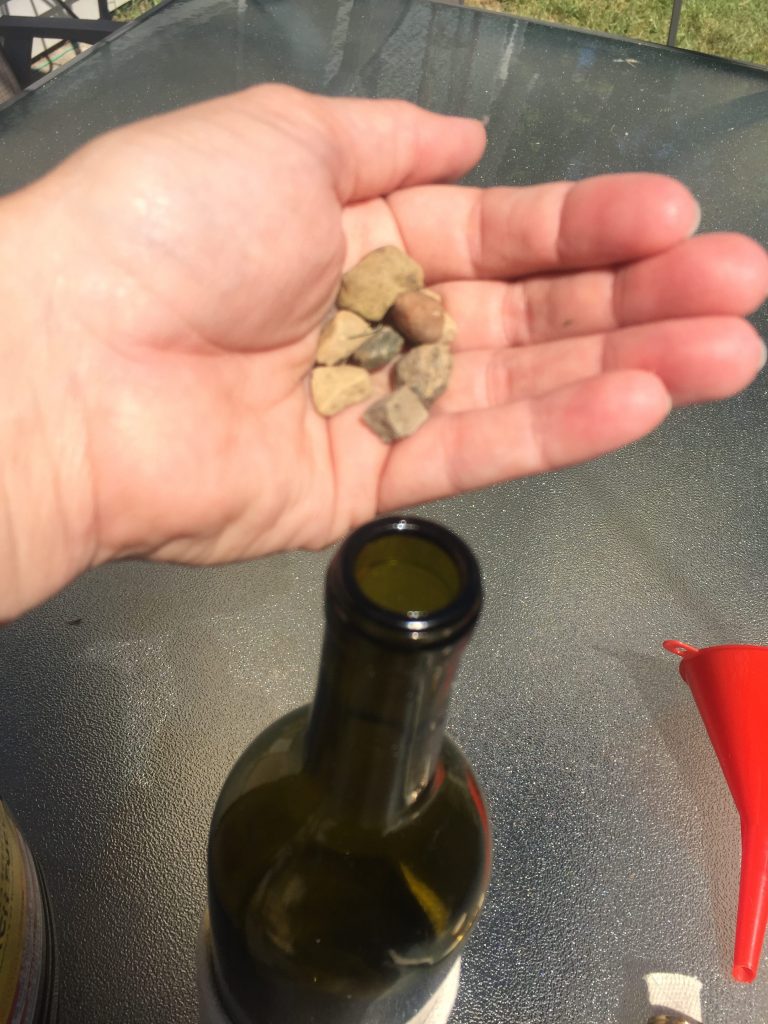 NEXT, you will need to insert the Tiki refill wick into the coupling doohickey.  I bought too short of a wick (it's all I could find) so my wonderful neighbor girl sewed 2 of the wick ends together.  I found the wick at Rural King in case you were wondering. Please excuse the glue on my fingers!!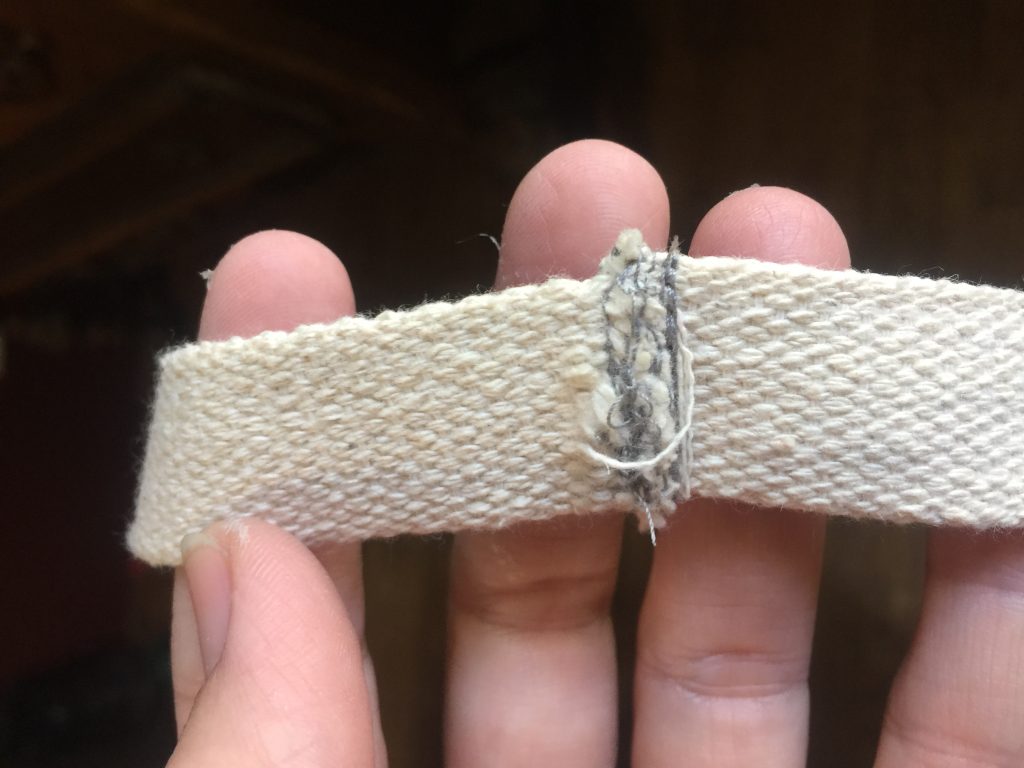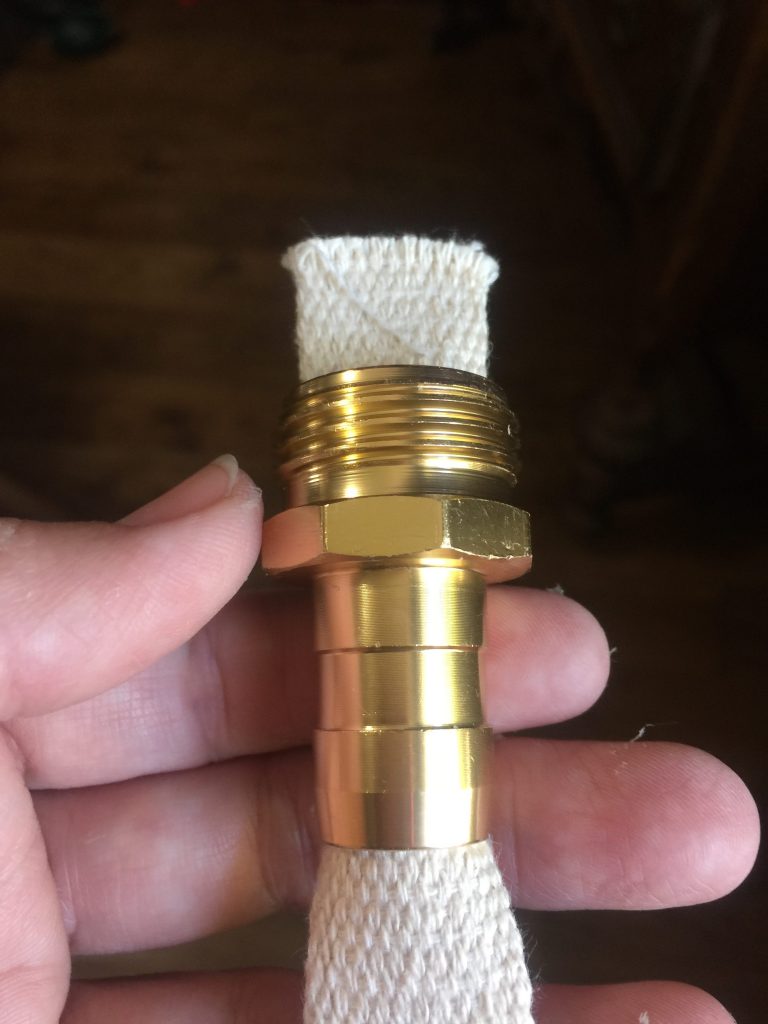 Next, you will want to fill the bottle with Tiki fuel using a funnel.  Once filled you will want to place the wick with coupling inside the wine bottle and let sit for at least 30 minutes prior to lighting.  Make sure that the wick is only sticking out about 1/4″ from the top of the bottle.  Let's keep those eyebrows intact!!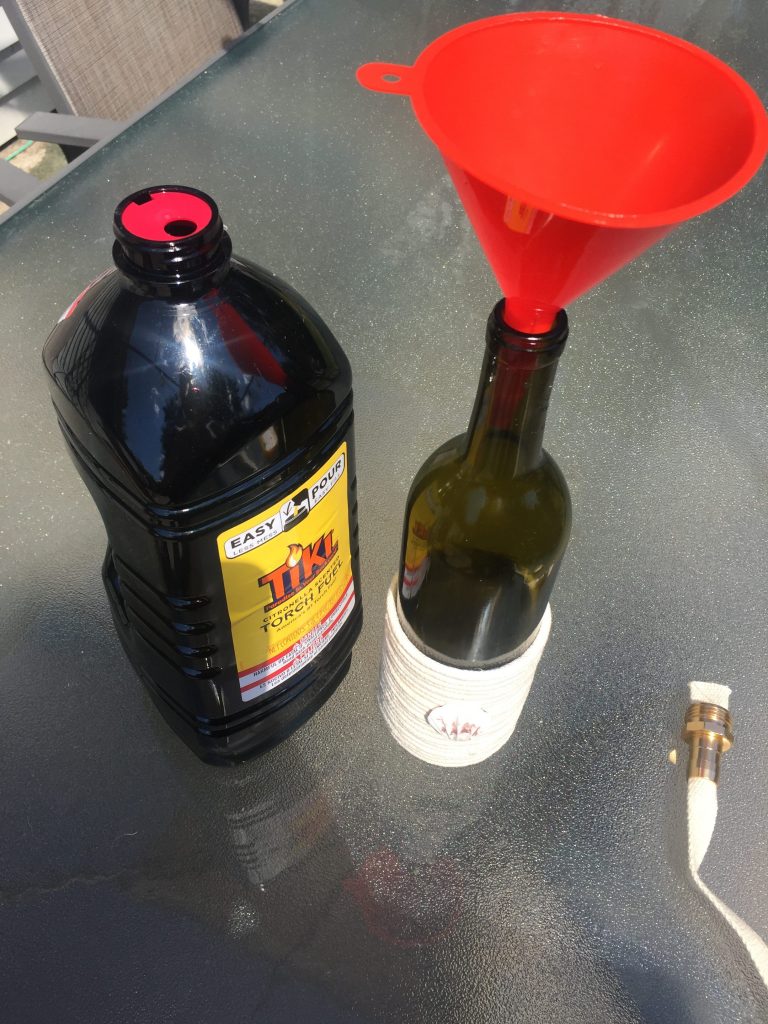 Last but least!  Ba Ba Baam!!!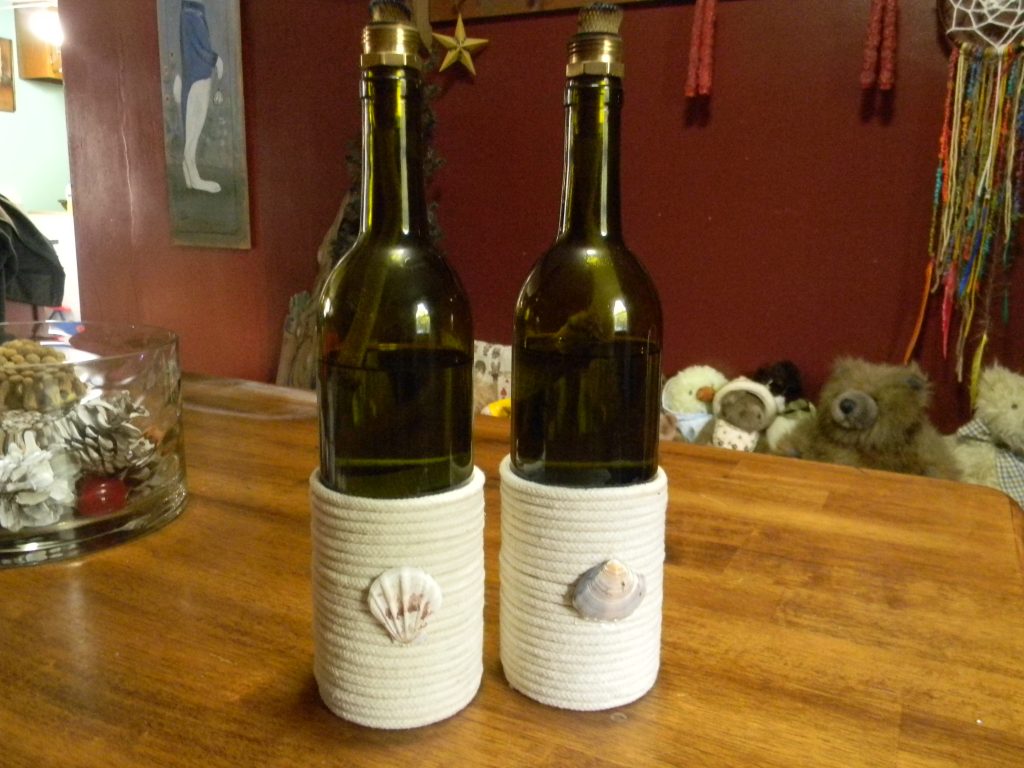 Sorry.  That was a bit dramatic but look how cute these turned out!!  They worked out great too.  Not one single bug bite!  If you try this, and I really think you should, feel free to share!!  We would all love to see what you come up with!
Here is a pic of one of them out on the patio.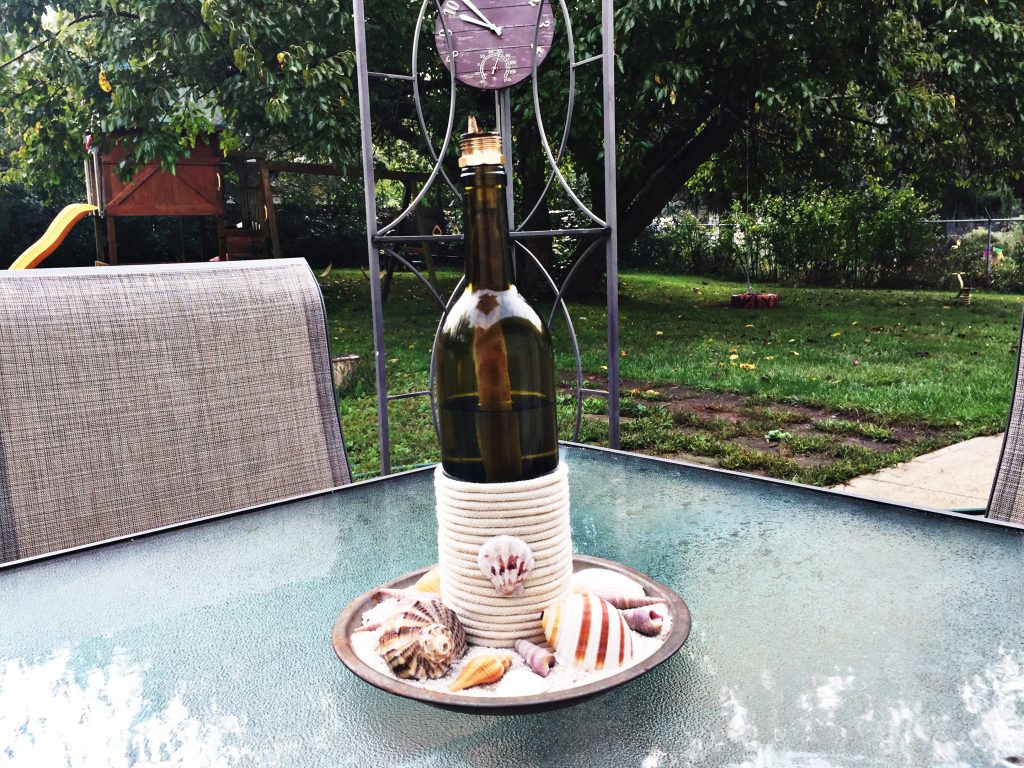 Please follow and like us: